If you love socialising and thrive on taking care of all the little details that make events perfect, then tourism and event management sounds like the perfect study choice for you. It is a growing industry and shows no sign of slowing down, despite the recent recession. Here are the different career prospects for graduates of distance learning tourism and event management.
Event management
Event managers are responsible for running a range of events, ensuring the target audience is engaged and the message of the event is marketed properly. In detail, they carry out duties such as finding and booking venues, liaising with clients and suppliers, handling logistics, managing budgets and invoicing, presenting post-event reports, etc. Typical employers for event managers are event agencies, trade fair and exhibition organisers as well as theatre and concert organisers.
Product management
Product managers, with a background in tourism, manage and control the products and/or services to be marketed. Specifically, they analyse the market, research potential offers, develop products, plan and organise distribution and marketing processes, and more. At an interface between marketing, sales, production and development, product management is oriented towards customer needs - and determines product requirements on this basis. They often find jobs in the hospitality and travel industry.
Project management
Project managers develop event plans for clients and internal stakeholders. This includes project plans that outline event execution, resource management, delivery timeline and event programmes. When working on a project in a team, they also take on managerial tasks. Same as with product managers, project managers will have no trouble finding a job in the hospitality and travel industry.
Entrepreneurship
Another option graduates of tourism and event management can choose is to become self-employed as an entrepreneur. As a self-employed event manager, you plan and manage various types of events like private celebrations or public exhibitions. You have to plan all steps in advance in close coordination with your clients and implement them on time so that on day X everything goes according to plan. This also includes collaborating with external service providers such as catering or artists. To ensure a successful event everything needs to fit together well. You can achieve this by taking into account the specific wishes of your clients in advance and communicating effectively with other partners involved.
Thanks for taking the time to read our blog post on the career prospects for graduates of distance learning tourism and event management. At PFH we make sure you receive a high-quality education that makes balancing your work and studies easier!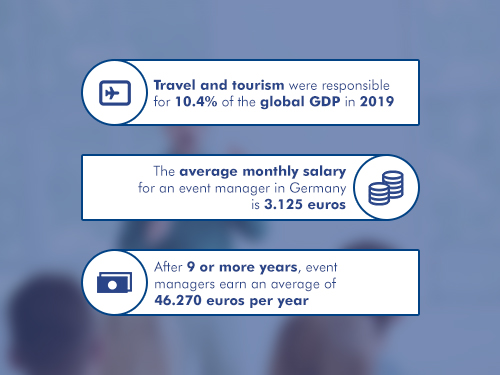 Source of statistics: