A degree in MBA is the path to some of the most popular and sought-after career opportunities. From accounting and finance to sports and tourism management, MBA graduates really have various job profiles to choose from. However, some career opportunities are dependent on the modules of the programme itself. Here are the different career prospects for graduates of distance learning MBA at PFH.
Accounting
As an MBA graduate, you can find a job as an accountant in various companies. Your work might entail budgeting, performing cost evaluations and managing a company's revenues and expenses. You will also need to be familiarised with computer software programmes for organising financial data and maintaining business records.
Applied business psychology
Business psychology can be used in every facet of the business. Business psychologists have a variety of responsibilities within their company. Your daily tasks may include increasing business efficiency and employee productivity, establishing employee training and development programmes, providing motivational leadership and coaching for employees, and more.
Corporate finance
Working in the field of corporate finance means you will be responsible for evaluating the company's short- and long-term investments and financial planning strategies to inform decision-making and maximise shareholder value. There are many career prospects in this field, especially as an MBA graduate.
eBusiness
You may find a job, for example, as an e-business consultant responsible for advising web-based companies on decisions pertaining to technical operations. By studying e-business, you can successfully combine economic and technical knowledge and create added value for companies and customers.
Education management
Successful education management serves to increase the performance of employees and enable them to climb the corporate ladder. With diverse possibilities for working with students, staff, teachers, and districts, the careers available in education management can help educators find a position that is best fitting for their skills, experience, and goals.
Entrepreneurship
You can start your own business and become an entrepreneur or help others as an intrapreneur. By graduating with an MBA with an entrepreneurship focus, you will gain an understanding of the challenges of self-employment and corporate development which will allow you to start your own company on a national and international level.
Health management
Medical and health services managers develop strategies, organise systems and run operations at medical facilities, specific clinical departments, or a group medical practice. They are responsible for adapting to complex changes in healthcare laws, regulations, and technology.
Retail management
Graduates with an MBA with a focus on retail management are in demand in both private and government sectors. You can work front-end, like selling and marketing the product or connecting with the customers, or you could work back-end which includes CRM (Customer Relationship Management), retail analytics, product development, etc.
Industrial management
Industrial managers deal with the entire value chain through to industry-specific management tasks). These tasks include planning, controlling and scheduling the production line, creating and managing systems to solve problems related to waste and inefficiency, and more. Industrial managers can find a job at manufacturing plants.
Logistics management
Logistics managers have the tasks of planning, organizing, controlling and monitoring storage and transport matters and ensuring the appropriate flow of materials. The disposal and recycling of goods are also part of logistics management. Graduates can take on managerial positions in the transports and logistics industry.
Tourism and sports management
Employees in tourism and sports management generally work in public relations and communication. This involves brand loyalty, networking, and crisis management. Graduates are familiar with the areas of tension and tasks that are customary in the industry in order to be able to carry out scientific analysis and act in a result-oriented manner.

Thanks for taking the time to read our blog post on the career prospects for graduates of distance learning MBA. At PFH we make sure you receive a high-quality education that makes balancing your work and studies easier!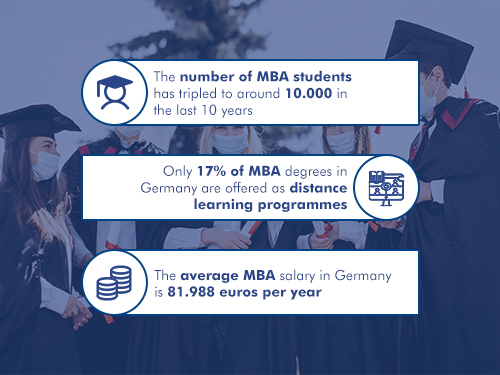 Source of statistics: