Welcome to PFH's International Office!
PFH's International Office is the point of contact for all questions relating to international cooperation, studying abroad, internships abroad and exchanges in teaching and research.
As a PFH student, you have many opportunities to gain experience abroad during your studies. In addition to the classic semester abroad, there are also opportunities to complete an internship abroad or take part in a summer school. All offers from the International Office are available to both our campus students and our distance learning students.
PFH employees can go abroad under the scope of training, teaching, or research.
You can get inspiration and information about all these opportunities from us at the International Office. We will be happy to support and accompany you throughout the entire process: from decision-making and planning to implementation, follow-up and reflection.
Take advantage of PFH's constantly growing international network and get to know our numerous partner universities in Europe, Asia, America and Australia.
PFH currently has 49 partnerships on five continents, 21 of which are ERASMUS+ universities.
Our team looks forward to welcoming you!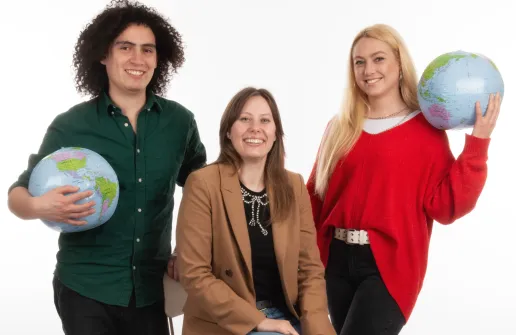 Our Offer
Come and spend a semester at PFH Private Hochschule Göttingen and learn how to do business in Europe at one of the leading private business schools in Germany. Learn more about Inbound Students.
New cultures, new contacts, new learning methods, new experiences: in short, a broadening of your horizons – a semester abroad can offer you all this. So, take advantage of this opportunity and complete a semester at one of our partner universities. Learn more about Outbound Students
You will find a detailed overview in the separate catalogue "International Partner Universities of the PFH", which we will be happy to send you.
PFH is continually expanding its network of international university partners, enabling students to organise their stays abroad in a relatively uncomplicated manner. The benefits of a semester abroad lie not only in acquiring language skills and gaining experience, but experience abroad generally increases career opportunities.

PFH's collaborations with its international university partners offer students significant advantages over self-organised semesters abroad: the PFH's International Office has direct contact with partner universities and provides support in the application process. Thanks to a growing number of funding programmes, it is possible to apply for financial support. Furthermore, PFH students do not have to pay additional tuition fees at many partner universities. Exceptions in this regard are marked as "Study Abroad" in the overview. However, discounts (usually 5-10% on tuition fees) have been negotiated for PFH students with almost all partner universities where fees are charged. Details on this can be obtained from the International Office.

Of course, it is also possible for students to spend a semester abroad at foreign universities that are not official partners of the PFH. In this case, too, you are welcome to seek advice from our staff in the International Office.
Asia
India, Birla Institute of Management Technology
India, IILM Institute for Higher Education
Japan, Otemon Gakuin University
Kazakhstan, KIMEP University
South Korea, KOREATECH
South Korea, Konkuk University
Taiwan, Tunghai University
Thailand, SSPO Faculty of Medicine Siriraj Hospital Mahidol University
Asia Exchange
Europe
Bulgaria, University of Economics Varna
England, Regent´s University *Dual Award
Estonia, University of Tartu
France, ESTICE International Business School
France, KEDGE Business School *Dual Award
France, Pole Paris Alternance
Ireland, Dublin Business School
Italy, University of Ferrara
Lithuania, Riga Technical University
The Neatherlands, Avans University of Applied Sciences
The Neatherlands, The Hague University of Applied Sciences
Poland, Opole University
Spain, ESIC Business and Marketing School
Spain, Fundesem Business School
Spain, University of Almeria
Spain, University of Granada
Spain, University Loyola Andalucia
Turkey, Abdullah Gül University
Turkey, Istanbul Aydin University
North America
Canada, Vancouver Island Unviersity
Mexico, Universidad de Guadalajara
USA, University of California Berkley *Summer School
USA, University of California Irvine
USA, University of California Riverside
USA, University of California San Diego
Oceania
Australia, Bond University *Dual Award
Australia, International College of Management Sydney
South America
Chile, Universidad Finis Terrae
Columbia, Universidad Pontificia Bolivariana
Peru, Universidad San Ignacia Loyola
Are you looking for practical tips and testimonials from PFH students who have alreadybeen abroad? Testimonials by students who have already completed a semester abroad and internship abroad can be found here: Learn more about Student Testimonials.
PFH participates in the European Union's Erasmus+ project, a programme for international collaboration in the field of education. Learn more about the Erasmus+ Programme.
The ERASMUS+ higher education programme - one of the great success stories of the European Union (EU) for 35 years - promotes the cross-border mobility of students, lecturers and other university staff as well as company personnel. Since 1987, the German Academic Exchange Service (DAAD) has acted as the National Agency for the ERASMUS+ Programme on behalf of the Federal Ministry of Education and Research (BMBF).

The 33 countries participating in the ERASMUS+ programme include the 28 EU states as well as the former Yugoslav Republic of Macedonia, Turkey, Iceland, Norway and Liechtenstein.
Erasmus + Code: D GOTTING02
OID: E10212393